#1 Digiidunia Online Digital Marketing Training Program in India With Certificate & Placement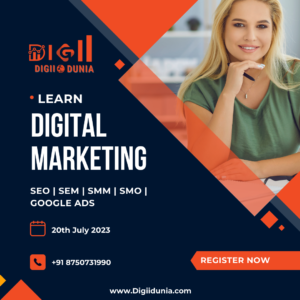 Digiidunia does not provide a pre-recorded course, but comes with regular live classes on Google Meet. You can now learn Digital Marketing and upskill yourself from anywhere in India.
Are you ready to take your digital marketing skills to the next level?
Whether you're a business owner looking to expand your online presence or an aspiring marketer eager to launch a successful career, our Digital Marketing Training program has got you covered!

* Next Batch Start From 6th November
(Mon – Fri) 3 Months
(Sun – Sat) 3 Months
8:00 AM to 9:00 AM
6:00 PM to 7:00 PM
7:00 PM to 8:00 PM
8:00 PM to 9:00 PM
Topics Covered in Training Program.
SEO

SEM

SMM

SMO

Google Ads

Email Marketing

WhatsApp Marketing
Why Choose DigiiDunia Digital Marketing Training?
Comprehensive Curriculum : Our training program covers all essential aspects of digital marketing, ensuring you gain a deep understanding of various strategies and tools used in the industry.

Expert Instructors :

Learn from experienced digital marketing professionals who have a proven track record of success. They will guide you through the latest trends and best practices in the digital marketing landscape.

Hands-On Learning :

Theory alone is not enough. Our training emphasizes practical exercises, real-world case studies, and live projects, allowing you to apply your knowledge in real-time scenarios.

Customized Learning Paths :

We recognize that every individual's learning needs are unique. That's why we offer tailored learning paths that suit your specific interests and career goals within the digital marketing realm.

Updated Content :

Digital marketing is a fast-paced industry with constant updates and innovations. Our training content is regularly updated to keep you at the forefront of the latest developments.
Key Modules Covered
Search Engine Optimization (SEO) :

Learn how to optimize websites to rank higher in search engine results, drive organic traffic, and enhance online visibility.

Pay-Per-Click Advertising (PPC) :

Master the art of creating effective ad campaigns on platforms like Google Ads and social media to generate targeted leads and maximize ROI.

Social Media Marketing :

Discover how to leverage popular social media platforms to build a strong brand presence, engage with audiences, and drive conversions.

Content Marketing :

Create compelling and shareable content that resonates with your target audience, boosts brand authority, and increases customer loyalty.

Email Marketing :

Learn how to craft engaging email campaigns that nurture leads, drive sales, and build lasting customer relationships.

Web Analytics :

Understand the significance of data-driven decision-making by analyzing website traffic, user behavior, and campaign performance using tools like Google Analytics.

Mobile Marketing:

Explore the world of mobile marketing, including app promotion, responsive design, and location-based advertising.

Conversion Rate Optimization (CRO) :

Discover strategies to improve website conversions and maximize the value of every visitor.

Digital Marketing Strategy :

Develop comprehensive digital marketing strategies that align with business objectives and deliver measurable results.
 
Who Can Benefit?
Business Owners and Entrepreneurs:

Enhance your digital marketing skills to effectively promote your business and reach a broader audience online.

Marketing Professionals:

Stay relevant in the digital age by mastering the latest tools and techniques used in digital marketing.

Students and Job Seekers:

Kickstart a rewarding career in digital marketing with industry-ready skills and a competitive advantage.

Anyone Interested in Digital Marketing:

If you have a passion for the online world and want to explore new avenues, our training welcomes enthusiasts from all backgrounds.
Get ready to embark on an exciting journey into the dynamic world of digital marketing. Join our training program and unlock the potential to propel your brand or career to new heights!
Enroll now and secure your spot in our Digital Marketing Training. Should you have any questions or need further information, don't hesitate to contact us. Let's start shaping your digital success together